Yes, I am still doing the Baldur's Gate II LP...its just that this is more interesting. Yeah, Baldur's Gate II is kinda boring to LP. I'll most likely update the IWD LP regularly and do batch updates for BG2.
I'll be playing Icewind Dale using the G3 IWD Tweakpack v11, no cheats installed.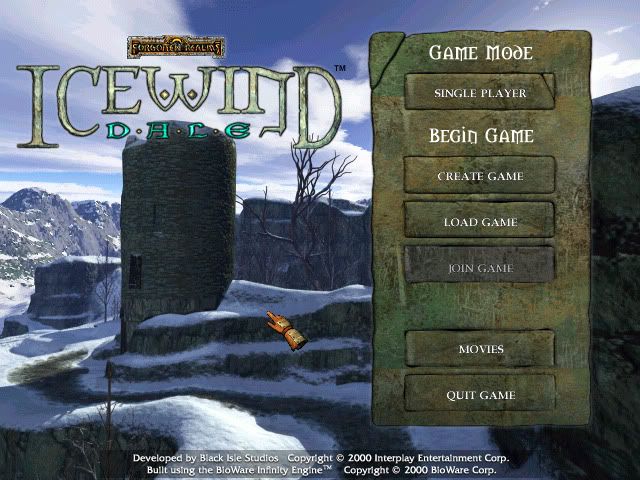 Yes, I will still need 6 party members created by you...
To simplify it for you guys, I'm going list a party of 6 that I'll most likely be using. We will need at least:
3 Fighters
1 Cleric
1 Thief/Mage (multi-class)
1 Mage (single class)
Yes, multi-class characters level slower, however, Thieves and Mages level quite quickly and Thieves start to become rather useless compared to other classes later on (fighting wise).
You can come up with whatever you want though.
Choose your sex.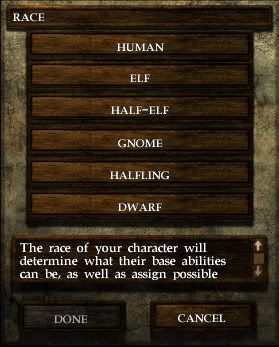 Choose your race. Heads up on restrictions:
Gnomes can only be Illusionist Mages if you want a Specialist, only Humans can be Paladins, and only Humans and Half-Elves can be Rangers and Druids of any kind.
Choose your alignment.
This will affect what profession you can be sometimes.
Paladins can't be anything but Lawful Good and Rangers can't be below Neutral Good from what I remember. Druids can only be Neutral alignments and Thieves can't be Lawful Good.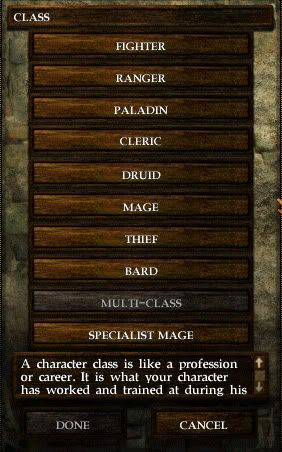 Choose your profession. Multi-class is grayed out there because Human's can't choose that. Heads up on Paladins and Rangers...if our Reputation goes below 8, they become regular, nerfed Fighters and lose all their special abilities.
EDIT: Didn't really describe the classes, did I?
Fighter - Thor smash. They run in, beat shit up...and stand in pools of blood. Pretty simple. They're also quite good at shooting stuff too.
Ranger - Like the Fighter, but squishier, and better at shooting. They also get a specialization where they do extra damage to a specific monster type of your choosing.
Paladin - Holy healers that smash stuff in. They get some basic healing spells and can destroy undead.
Cleric - Your basic healer...but they can wear full plate mail. Yeah, they quite good.
Druid - Can shape shift into three animals at higher levels, a bear, a wolf, and a boring beetle...yes, a boring beetle. They also have some pretty good Cleric spells.
Mage - can cast magic spells, has to memorize them before use, they pretty weak hp wise.
Thief - its a rogue. They steal things and can backstab, hide in shadows, open locks, and detect traps.
Bard - jack-of-all trades. They can sing songs during battle that up your parties stats and they can cast some magic spells and do some thieving stuff...they're...kinda...meh.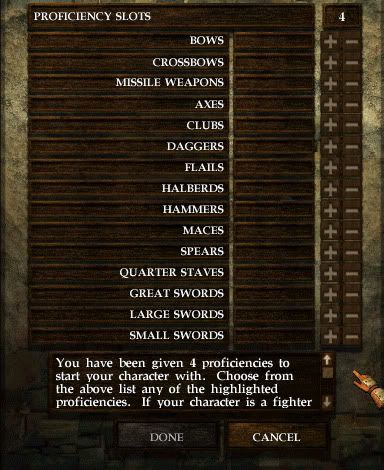 Choose your weapons, most classes can use at least two weapons right off the bat (except mages).
Unless you Multi-class there's a few restrictions weapon wise.
Fighters/Paladins/Rangers can use anything.
Mages can only use Daggers, Staves, and Slings (Missile weapons)
Clerics can't use bladed weapons, can't use Bows, Crossbows (missile weapons), in the Missile Weapon category they can use Slings, otherwise they're unrestricted
Druids can't use bladed/metal weapons, although they CAN use Spears
Thieves can only use Short Bows, Short Swords, Slings, and they can use Long Swords (Large Swords)
Bards are pretty much limited like Thieves, but they can pretty much use a little bit of everything out of every weapon class.
So you'll need:
Name:
Race:
Alignment:
Class:
Weapon(s):
Quirks:
Relating to the quirks, don't make it something like, "Hates all women and kills them...". As amusing as it is to run around a town slaughtering all the baby-makers...it would make a really short LP because the guards would immediately destroy the party...or the Quest Givers would try to kill us. "Hates women and insults them regularly" I can do.