Yes, you can...
Posted: Mon Feb 19, 2007 11:04 pm
Inspired by the recent discussion of whether or not you could Leg-Cannon someone while they were in the air (Yes, you can) I decided to start a thread examining things you may have thought weren't possible in Lugaru.
Feel free to add the results of your own experiments and explorations. Just name the topic and explain how it's done. Cheats, debug and map editor tricks are OK, too, as long as they're interesting and/or unexpected. And of course, screens are always welcome.
You can have two knives and still drop kick a body without dropping one. Just crouch, sheathe the knife (it will load under the other one) and voila! Drop kick away! You'll equip the knife as soon as your kick is over.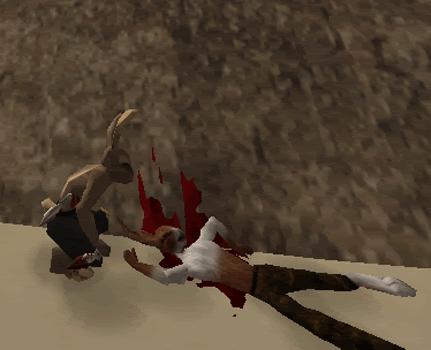 You can also rabbit-run this way; you'll equip the knife again as soon as you stand up. However, you can't pick up a third knife this way.